7 Tips on How to Throw the Perfect Holiday Party
The holiday season calls for a few things, being merry and bright, giving and holiday parties. They are the reason to get dressed up (or down, if that's what you prefer), take photos and make memories, and spend quality time with friends and family. However, taking on the responsibility to host such events, can be quite daunting and exhausting just thinking about it! You have food to worry about. It's hard enough to remember who is on what diet now-a-days and how you are going to cater to everyone. On top of food, you have decor to think about and then before any of it even starts, you're already freaking out about the clean up and how messy your place is going to be afterwards. With such a large undertaking, how can one reach those high expectations set by all the celebrities you seen on social media?! Let me first start by saying, they didn't do it all by themselves. So grab yourself a glass of eggnog (spiked or not) and here are 10 tips on how to throw THE perfect holiday party.
1. Location, Location, Location
Now, the first thing most hosts do, is go on a cleaning rampage just to clear the clutter of wrapping paper and Amazon Prime boxes and paperwork. Once you have a clear space (and mind). Everything else will start to fall into place. However, on the other hand, why clean like crazy just for it to get unbelievable messy within minutes and having to stress about the space the entire party. Here at The Standard, our place comes already spotless, no need to scrub your floors like Cinderella. We offer multiple levels of space, so all party sizes from small intimate gatherings to parties as big as 200+ are sure to have plenty of space to jingle and mingle.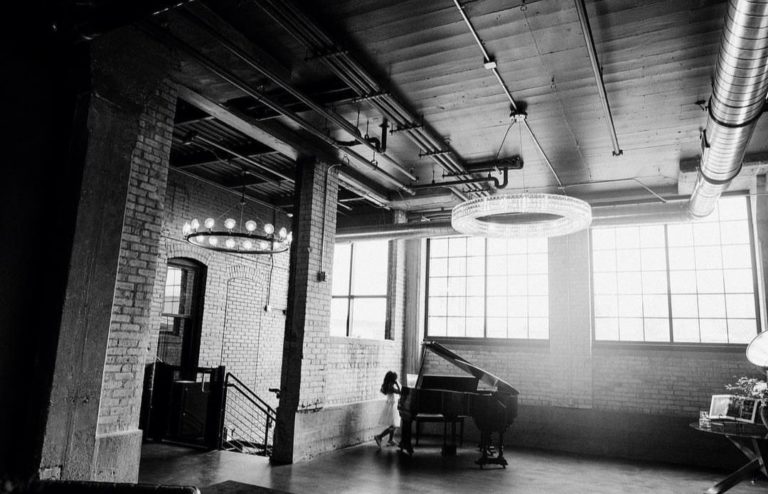 2. Invite your closest friends and family
This is where it can get tricky. Do you want an intimate dinner party with just the closest of friends and family. Our beautiful, glass covered rooftop that overlooks downtown Rockford, is the perfect spot for small groups. If you plan on inviting your entire contact list on your phone, even better! We love utilizing all of our space here! Don't limit yourself when it comes to how many friends and family you invite, we love meeting new friends. May we also suggest that you require they wear an ugly Christmas sweater? You could also have them dress in red and green, this is bound to get everyone amped up and excited about the party and set the tone for what is to come!
Luckily here at The Standard, not much decorating needs to be done, that's what we love most about our space! Now, don't get us wrong, you still want to set the tone and by all means go ALL out with your decor if you want! Make that balloon arch, decorate your table with all the greenery and candles you can find, RENT THAT SANTA SUIT! The sky's the limit here for us! We are open to all designs and concepts, it's your party and we want it to feel and look that way. With our rustic and industrial look to the building, we offer a unique look and twist compared to other venues and banquet halls. With all the chandeliers we have around the building, your party is already bound to look grand! We have an open concept floor plan here and we adore it! Throw some balloons in one corner, hang an installation of floral wreaths from the ceiling, have a photo booth in the other corner, wrap some garland around our railings; seriously, the opportunities are endless. Did you also know that our building is also attached to some of the most amazing vendors in the area! We are always so excited when we get to work alongside of them.  London Avenue, an amazing group of floral designers ready to help you out when it comes to your centerpiece! We are also here to help plan and coordinate your special event as well, just say the word and we're there!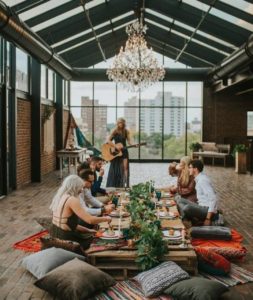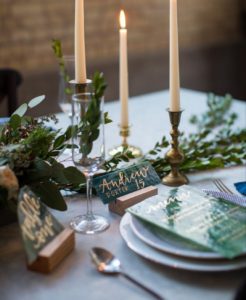 Photos by @thehancocksimagery and @elladele_photography
4. Create a holiday playlist
We all have that one favorite Christmas song, but sometimes, the party needs a little something other than JUST Christmas music, to your advantage, Whitetrain Entertainment is also in our building! No need to stress about making that perfect playlist and worrying about having to please everyone's taste in music, on your guest list, Whitetrain will do the work for you!
5. The "GOODS" (food + drink)
The goods, the best part of the party (aside from your friends and family). Now is the time to whip out those recipes you have been dying to try! Best part of the holidays is you get to add a fun twist to everything, including your food! Have some green punch and call it "Grinch Punch" make some cute treats out of oreo cookies and make them look like santa or snowmen! Have fun with it! The options are endless when it comes to how you want to serve your food. Do you want a sit down dinner, hor derves and light eats, just a sweets table and punch? You can go with the theme and have all red, white and green, food, or have everyone bring a treat to share from their favorite restaurant. With so many restaurants and caterers in the area, you are bound to find something to fit your taste (buds) and budget.
Photos by @ctysonphotography, @saraannejohnson, and @megdunnphotography.
6. Set up a holiday photo booth
We all know photo ops are one of the best parts of any type of event. Keeping up on social media is almost a must these days to see what everyone is up to! It Like we mentioned before, we work with so many vendors that you are sure to find one for your photography needs! Whether you want to set up your own photo booth using Christmas wrapping paper and or balloons, you can even grab Christmas themed props from the dollar store, or if you want to book with a photographer/company that does it for you, we can help you with finding the right person! As pinterest has taught us, it doesn't have to be anything fancy, we are positive, there is already something in your house that you could use. It's always nice when you can have a photographer on site during your event, so everyone can be present and not worry about having to capture the day on their phone, when they could have very nice, professional photos sent the them!
7. Play game of White Elephant or Secret Santa
This season is all about giving and togetherness! While small talk is nice, only so much can be said about the crazy weather we have had this fall/winter. So to add some more life to the party, on the invites, ask everyone if they would kindly bring a gift for either a fun game of White Elephant, or to give to a charity that collects gifts all season long. You could also plan ahead of time and do a few rounds of Secret Santa a month before the party and at the party everyone reveal who they had! Have fun, play games and make memories!
At the end of the day, like we said before, this season is about togetherness, and it is very easy to get carried away by everything going on. With all the fun recipes, to diy decor and favors, personalized cups, you put a lot of unneeded stress on yourself. Here at The Standard, you can make it as glamourous or as simple as an event that you would like, either way we have it all for you! Location, check. Decor, setting and mood of party, check. Food, Beverage, and a grand ol' time…CHECK, CHECK & CHECK! Give us a call today and set up a tour, so we can help you put your vision into action!